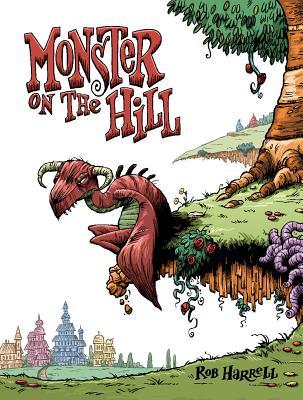 Read Monster on the Hill Online Free - In a fantastical 1860s England, every quiet little township is terrorized by a ferocious monster--much to the townsfolk's delight! Each town's unique monster is a source of local pride, not to mention tourism.

Each town, that is...except for one.

Unfortunately, for the people of Stoker-on-Avon, their monster isn't quite as impressive. In fact, he's a little down in the dumps. Can the morose Rayburn get a monstrous makeover and become a proper horror? It's up to the eccentric Dr. Charles Wilkie and plucky street urchin Timothy to get him up to snuff, before a greater threat turns the whole town to kindling.

Monsters of all ages are sure to enjoy this tale about life's challenges, the power of friendship, and creative redemption, packed with epic battles and plenty of wild beasts!
Title
:
Monster on the Hill
Author
:
Rating
:
ISBN
:

1603090754

Edition Language
:

English

Format Type
:

Paperback

Number of Pages
:

186

pages
Reviews
---
Callie rated it ★★★★★
October 15, 2014
Perfect. This book is perfect. I love everything about it. Every character is interesting and our main trio of old man, kid, and monster are incredibly lovable and hilarious, I want to hang out with them. The humor in this book is incredible, a great balance between dry parody and snarky sarcasm t...

---
Wayne rated it ★★★★☆
September 08, 2013
Stoker-On-Avon has a problem. Their town has a monster, but that's not the problem. The problem is that their monster isn't scary. Certainly nothing like the rock star monster, Tentaculor, of the town of Billingswood. So, a bumbling scientist, and a stowaway newsboy are sent to see if they can sol...

---
Beth rated it ★★★★☆
December 19, 2014
My son was sent this for Christmas and it looked adorable, so I worked in time to read it before wrapping it. Monster on the Hill is an 185-page graphic novel with delightful artwork and a fun story. It made me smile throughout. It's a version of Victorian England where each town has its own monst...

---
Kaethe rated it ★★★★★
April 06, 2016
If monsters were common, then surely every town would have their own to attract tourists and repel other monsters, right? Stands to reason. But what about the poor monster who has lost his joie de vivre? It's an all-ages book, so it's not a depression requiring medication or treatment, thankfully...

---
Stephanie rated it ★★★★☆
November 26, 2017
My 9-year-old read this to himself this morning and loved it SO much that he asked me to read it with him right afterwards. So I read it out loud to him and my 4-y-o, who is now stomping around the house play-acting one of his favorite monster characters from the book! It was a huge success with...

---
Emilia rated it ★★★★☆
March 03, 2014
I read this book in preparation to go see Harrell speak about kids comics at the Staple Independent Media Expo. It was great, and it was also really great to hear Rob talk about the need/place/effectiveness of the All Ages comic which appeals to both parents and kids. It really hit a nail on the...

---
Raina rated it ★★★★☆
December 28, 2013
This is silly. Silly and fun. For one thing, it's very specifically set in a fictionalized England in 1867, and many of the characters have cheesy, over-the-top off-and-then-on-again British twangs, alternating with modern usage ("Seriously?" = full sentence originated on the TV show Greys Anatomy...

---
Angela rated it ★★★★☆
September 27, 2013
I have a special weakness for graphic novels, especially fantasy stories that look to play with conventions - and Monster on the Hill most definitely did. Rob Harrell's penned an incredibly fun, quirky, and silly story... See my full review my blog or booklikes

---
Leah rated it ★★★★☆
October 17, 2015
mini review and mini thoughts are on the blog!

---
Betsy rated it ★★★★★
October 31, 2015
See, people? *shakes book in the air* How hard is this, really? I stand beside thousands of children's librarians who have, for years now, been in a bit of a pickle with the kiddos when it comes to great graphic novels. I blame Bone. If Scholastic hadn't rereleased Jeff Smith's classic series in...

---