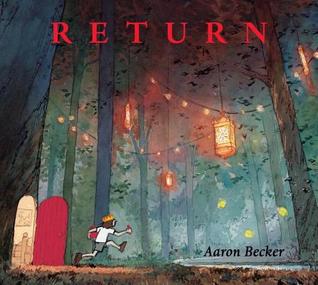 Read Return (Journey Trilogy, #3) Online Free - Welcome the much-anticipated finale of Caldecott Honoree Aaron Becker's wordless trilogy—a spectacular, emotionally satisfying story that brings its adventurer home.

Failing to get the attention of her busy father, a lonely girl turns back to a fantastic world for friendship and adventure. It's her third journey into the enticing realm of kings and emperors, castles and canals, exotic creatures and enchanting landscapes. This time, it will take something truly powerful to persuade her to return home, as a gripping backstory is revealed that will hold readers in its thrall. Caldecott Honor winner Aaron Becker delivers a suspenseful and moving climax to his wordless trilogy, an epic that began with the award-winning Journey and continued with the celebrated follow-up Quest.
Title
:
Return (Journey Trilogy, #3)
Author
:
Rating
:
ISBN
:

0763677302

Edition Language
:

English

Format Type
:

Hardcover

Number of Pages
:

40

pages
Reviews
---
Mischenko rated it ★★★★★
April 14, 2017
To see this and other wordless picture book reviews, please visit www.readrantrockandroll.com Return by Aaron Becker is the third installment in the Journey Trilogy. As the little girl's father is once again occupied, she decides it's time for another adventure into an exotic world. This time, she...

---
David rated it ★★★★☆
August 26, 2017
The third and final installment to this wordless picture book that began with the Caldecott Honor Journey, followed by the second volume, Quest. Return is about a girl going on (and now returning to) her own series of fantastical journies when stay-at-home Dad is busy working. The artwork, somewh...

---
Whispering rated it ★★★★★
August 01, 2017
Return is the last book in a trilogy, following a young girl who with her red marker pen can draw magic doors, and enter other realms. The series is unique in that the books don't contain any words, just illustrations from beginning to end. I haven't 'read' the first two books, but it didn't take...

---
Kelli rated it ★★★★★
August 10, 2016
An epic ending to the trilogy, this includes an evil Trojan horse-like boat, a griffin (so says my son,) some very detailed hieroglyphics, and many hidden gems my children have come to expect from this series. The illustrations are magnificent in this imaginary word. Though, as my daughter said t...

---
KC rated it ★★★★★
March 05, 2017
The crayon journey continues.

---
Jasmine rated it ★★★★★
September 28, 2016
I did not expect to be moved to tearfulness by a wordless picture book but here we are.

---
Amy (Other Amy) rated it ★★★★★
January 02, 2018
Love, love, love so much. What do I love? The way all the discoveries from the first two books come back around again, even if only as background. The emotional truth of the tension between daughter and father, and father and daughter's friends. The way this whole book begins where the first one...

---
Cade rated it ★★★★★
October 28, 2016
Return is absolutely gorgeous. Each page is a work of art. The usage of color plays a large role in the story, and makes every scene feel so magical. I haven't had the pleasure of reading #1 or #2 of this series, but this book can definitely read as a standalone. It's beautiful and touching, and...

---
Carrie rated it ★★★★★
August 01, 2016
I LOVE this trilogy! Each and every book.

---
Olivia rated it ★★★★☆
October 15, 2017
Love the illustrations in this wordless picture book. The book features a young girl who creates a fantasy world and herself and a young boy create more objects and animals in the world by drawing them. I really like this different way of creating the story and how you can them drawing and then i...

---