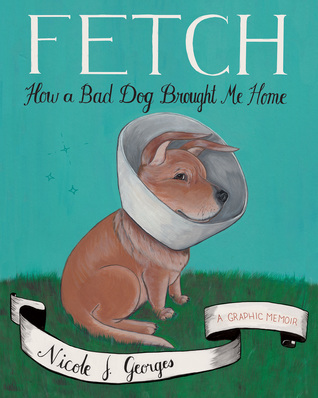 Read Fetch: How a Bad Dog Brought Me Home Online Free - From an award-winning artist, a memoir of life with a difficult, beloved dog that will resonate with anybody who has ever had a less than perfectly behaved pet

When Nicole Georges was sixteen she adopted Beija, a dysfunctional shar-pei/corgi mix—a troublesome combination of tiny and attack, just like teenaged Nicole herself. For the next fifteen years, Beija would be the one constant in her life. Through depression, relationships gone awry, and an unmoored young adulthood played out against the backdrop of the Portland punk scene, Beija was there, wearing her "Don't Pet Me" bandana.   Georges's gorgeous graphic novel Fetch chronicles their symbiotic, codependent relationship and probes what it means to care for and be responsible to another living thing—a living thing that occasionally lunges at toddlers. Nicole turns to vets, dog whisperers, and even a pet psychic for help, but it is the moments of accommodation, adaption, and compassion that sustain them. Nicole never successfully taught Beija "sit," but in the end, Beija taught Nicole how to stay.
Title
:
Fetch: How a Bad Dog Brought Me Home
Author
:
Rating
:
ISBN
:

0544577833

Edition Language
:

English

Format Type
:
Number of Pages
:

0

pages
Reviews
---
Chelsey rated it ★★★★★
April 24, 2017
A beautiful, often hilarious portrait of an unpredictable childhood and a complicated yet magical queer punk coming-of-age in Portland in the early millennium, all through the author's relationships to animals--most significantly her difficult, damaged, beloved soulmate dog Beija. The drawing is...

---
Kevin rated it ★★★★★
August 13, 2017
Nicole and Beija co-star in this sweet and funny graphic novel/memoir. The story, weaving youthful memories and adult follies, is heartfelt and accountable. The panels/artwork is the best I've seen from Georges, one of my favorite comic storytellers today.

---
Peacegal rated it ★★★★☆
August 12, 2017
4.5 stars -- Graphic memoir enthusiasts and pet lovers alike will plow through this unique and affecting comic, and will be happy they did. Nicole Georges chronicles her 15 years with Beija, a small mixed-breed dog whose personality might charitably be called "eccentric." But this isn't "just" a...

---
Kelly rated it ★★★★★
July 17, 2017
oh h*ck. (Full disclosure: I received a free copy of this book for review. Trigger warning for allusions to rape, child abuse, domestic violence, animal abuse, alcoholism, self-harm, and suicidal ideation.) I first discovered Nicole Georges's artwork nestled within the pages of Bitch Magazine . In...

---
Sam rated it ★★★★☆
May 29, 2017
Huge thank you to Raincoast for this ARC! I knew this book was going to emotionally wreck me. This is the story of Nicole J. Georges and her dog, Beija. Beija is a shar-pei/corgi mix with some behavioral troubles. She's not comfortable with people petting her, she's somewhat aggressive when people...

---
Sassafras rated it ★★★★★
July 20, 2017
i have been waiting for this book to come out. i pre-ordered as soon as i could, and when it arrived i started reading immediately. i ended up reading the whole book in less than a day because i just couldn't stop myself. this book is heartbreaking and beautiful and brilliant and i loved everythi...

---
CaseyTheCanadianLesbrarian rated it ★★★★★
August 02, 2017
Loved it! More thoughts to come, but for now: be prepared to laugh and cry.

---
Sara rated it ★★★★★
July 26, 2017
I was expecting to enjoy Fetch, but it's so much more than an enjoyable read. I dunno, there's connection and layers of figuring shit out and acceptance and love and joy and heartache and pain. Georges' art style took me a hot second to get used to, but once I did, I really liked it. I liked the...

---
Matthew rated it ★★★★★
July 21, 2017
I have been a fan of Nicole Georges since her first graphic memoir, "Calling Dr. Laura." While I was not bothered by the more haphazard narrative style of that first book (at some points I even enjoyed it), I still recognize that it was not the most coherent narrative. While touching and personal...

---
Lynn rated it ★★★★★
July 12, 2017
This graphic memoir made me laugh out loud, smile when I recognized similar life experiences, empathize with Nicole, the author, and cry when her dog, Beija died. I read the book more slowly than I usually do so I could savor every graphic and the writing. Nicole tells her life story beginning wi...

---