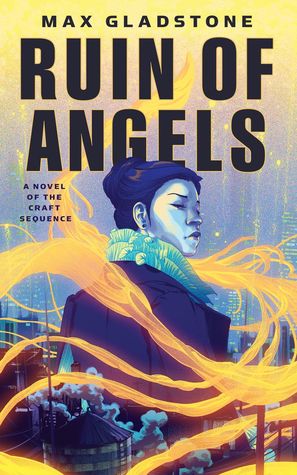 Read The Ruin of Angels (Craft Sequence, #6) Online Free - Max Gladstone returns with The Ruin of Angels, the sixth novel in the Craft Sequence, which The Washington Post calls "the best kind of urban fantasy" and NPR calls "sharp, original, and passionate"

The God Wars destroyed the city of Alikand. Now, a century and a half and a great many construction contracts later, Agdel Lex rises in its place. Dead deities litter the surrounding desert, streets shift when people aren't looking, a squidlike tower dominates the skyline, and the foreign Iskari Rectification Authority keeps strict order in this once-independent city―while treasure seekers, criminals, combat librarians, nightmare artists, angels, demons, dispossessed knights, grad students, and other fools gather in its ever-changing alleys, hungry for the next big score.

Priestess/investment banker Kai Pohala (last seen in Full Fathom Five) hits town to corner Agdel Lex's burgeoning nightmare startup scene, and to visit her estranged sister Ley. But Kai finds Ley desperate at the center of a shadowy, and rapidly unravelling, business deal. When Ley ends up on the run, wanted for a crime she most definitely committed, Kai races to track her sister down before the Authority finds her first. But Ley has her own plans, involving her ex-girlfriend, a daring heist into the god-haunted desert, and, perhaps, freedom for an occupied city. Because Alikand might not be completely dead―and some people want to finish the job.
Title
:
The Ruin of Angels (Craft Sequence, #6)
Author
:
Rating
:
ISBN
:

0765395894

Edition Language
:

English

Format Type
:

Paperback

Number of Pages
:

400

pages
Reviews
---
Brad rated it ★★★★★
August 19, 2017
New Craft book!!! I got lucky with an ARC thanks to Netgalley and I immediately got sucked right into the story since I had just gotten caught up with the previous publication-order book, Four Roads Cross. Unfortunately for me, as well as everyone else who reads these books, I still have to do tim...

---
Lucille rated it ★★★★★
September 02, 2017
"YES." That is the only word I found when I went to look at my first draft of this review and I thought I should keep it. It really translates my state of excitement and joyfulness upon finishing this book, how this book did justice to a remarquable cast of characters, while juggling with an epic...

---
Coolcurry rated it ★★★★☆
September 05, 2017
Max Gladstone returns to the world of his Craft Sequence and especially the character of Kai, a protagonist in the prior novel Full Fathom Five. While there are references to the events of that novel, the plot stands on its own. I don't know if it's the first book I'd suggest as an introduction t...

---
Anurag rated it ★★★★★
September 09, 2017
At this point, there's no need for me to say that I loved this book: Gladstone has fast become one of my favorite authors, and a few years down the line, if he continues to keep his consistency in terms of publishing and quality up, he'll probably rival folks like Sanderson and Butcher in terms o...

---
Mel rated it ★★★★☆
September 20, 2017
Beautiful covers, interesting blurbs, and an interview with the author, brought me to this series in the first half of this year. I have since then read four of the six standalone novels in Max Gladstone's Craft Sequence series, that are connected by the world they are set in, themes, and some ch...

---
Kavya rated it ★★★★★
September 10, 2017
Reading a Craft Novel is an experience like no other. It's so hard to summarize these books in a review - there are multiple themes, hooks, cool ideas, magical escapades, excellent diverse characters, and levels of complexities that defy simplification. This one is another stellar addition to the...

---
Chris rated it ★★★★★
September 10, 2017
Yeeeeeees! (More TBD. But mate, it's good, read it)

---
Gaby rated it ★★★★☆
September 09, 2017
To be reviewed shortly for Geek planet online. In short, worth reading.

---
Kathryn rated it ★★★★★
September 15, 2017
Every time I think 'this is the best book of the Craft Sequence', Mr. Gladstone goes and writes a new book. I loved this series the minute I dumped myself into it (which was with Full Fathom Five which was not the best place to start a series but eh, I'm a rebel) and just... every book has more t...

---
Michael rated it ★★★★☆
September 12, 2017
With The Ruin of Angels, Gladstone shifts The Craft Sequence into a new major arc. The first books stood on their own as fantasy-legal-thrillers, but now he's aiming higher, with the fate of the entire world at stake. The magical technology that sustains the setting is burning through necromantic...

---