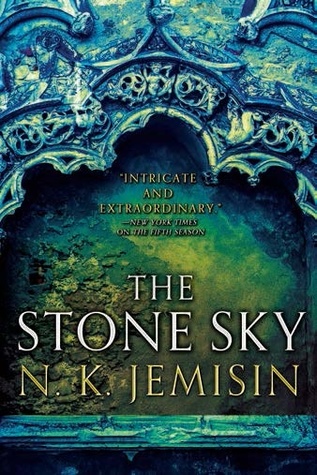 Read The Stone Sky (The Broken Earth, #3) Online Free - THIS IS THE WAY THE WORLD ENDS... FOR THE LAST TIME.

The Moon will soon return. Whether this heralds the destruction of humankind or something worse will depend on two women.

Essun has inherited the power of Alabaster Tenring. With it, she hopes to find her daughter Nassun and forge a world in which every orogene child can grow up safe.

For Nassun, her mother's mastery of the Obelisk Gate comes too late. She has seen the evil of the world, and accepted what her mother will not admit: that sometimes what is corrupt cannot be cleansed, only destroyed.

The remarkable conclusion to the post-apocalyptic and highly acclaimed trilogy that began with the multi-award-nominated The Fifth Season.

The Broken Earth
The Fifth Season
The Obelisk Gate
The Stone Sky
Title
:
The Stone Sky (The Broken Earth, #3)
Author
:
Rating
:
ISBN
:

0356508684

Edition Language
:

English

Format Type
:

Paperback

Number of Pages
:

413

pages
Reviews
---
Melanie rated it ★★★★★
January 15, 2018
ARC provided by Hachette in exchange for an honest review. 1.) The Fifth Season ★★★★★ 2.) The Obelisk Gate ★★★★ "Some worlds are built on a fault line of pain, held up by nightmares. Don't lament when those worlds fall. Rage that they were built doomed in the first place." You guys, I'm speechles...

---
Samantha rated it ★★★★★
January 13, 2018
Now THAT is how you do a finale...

---
Petrik rated it ★★★★★
September 04, 2017
Buddy read with my favorite Orogenes: Melanie & Mary Jemisin has truly outdone herself with this book and trilogy. The Stone Sky, contrary to my expectation, has somehow become one of the best conclusions to a trilogy I've ever read, it's simply extraordinary. My experience reading this trilogy...

---
Bradley rated it ★★★★★
August 08, 2017
There's really no easy way to put this, so I'll come right out and say it. This is one of the very best stories I've ever read. All together now, all three books in this trilogy, together, make up one hell of a great story. I am amazed. I cried. I was blown away by the sheer immensity of what was g...

---
Melissa ♥ Dog Lover ♥ rated it ★★★☆☆
September 29, 2017
I don't know what the hell just happened! I'm going to have to re-read the whole trilogy again next year. I'm leaving this as being my mood because I enjoyed the first two books!! Damn it! Mel ❤

---
Mary ~Ravager of Tomes~ rated it ★★★★★
August 29, 2017
Oh well gee, golly, gosh, let me just to review this masterpiece, no problem, easy peasy??? The further I get into a series, the harder it is for me to review each individual book because so much of my opinion relies on understanding everything that happened in the preceding books. More than usu...

---
Philip rated it ★★★★★
September 25, 2017
5ish stars. This is an incredible series and a huge accomplishment for its author, N.K. Jemisin. It has every element of high quality fiction and, particularly, everything great about SFF. It's decidedly new age, but in a way that I don't doubt will stand the test of time. It's innovative in the...

---
Hannah rated it ★★★★★
September 03, 2017
And this is how you end a trilogy. This book was quite possibly (/definitely) my most anticipated book of the year; N. K. Jemisin has yet to dissappoint me and I just love love love her brand of fantasy. I love how intricate and well thought out her worlds are and how political they are at their...

---
Mayim rated it ★★★★★
November 15, 2017
If you had the power to end the world, would you do it? Looking around, seeing the structural injustice, the corrupted power, contentment of the few and misery of the millions, would you just decide to erase or would you devote your life and try to fix it? Is humanity worth saving or is it beyond...

---
Robin rated it ★★★★★
December 30, 2017
Sale Alert 30Dec17 Kindle Daily Deal for $4.99 . This was one of the best series I read in 2017 and it is on sale today here If you didn't give this series a go because it is listed as Sci-Fi, don't let that deter you. This is probably one of the best completed Sci-Fi fantasy series I've read in...

---