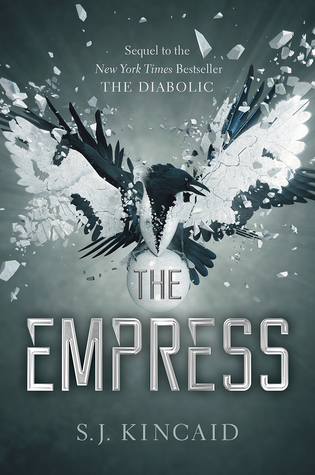 Read The Empress (The Diabolic #2) Online Free - It's a new day in the Empire. Tyrus has ascended to the throne with Nemesis by his side and now they can find a new way forward—one where they don't have to hide or scheme or kill. One where creatures like Nemesis will be given worth and recognition, where science and information can be shared with everyone and not just the elite.

But having power isn't the same thing as keeping it, and change isn't always welcome. The ruling class, the Grandiloquy, has held control over planets and systems for centuries—and they are plotting to stop this teenage Emperor and Nemesis, who is considered nothing more than a creature and certainly not worthy of being Empress.

Nemesis will protect Tyrus at any cost. He is the love of her life, and they are partners in this new beginning. But she cannot protect him by being the killing machine she once was. She will have to prove the humanity that she's found inside herself to the whole Empire—or she and Tyrus may lose more than just the throne. But if proving her humanity means that she and Tyrus must do inhuman things, is the fight worth the cost of winning it?
Title
:
The Empress (The Diabolic #2)
Author
:
Rating
:
ISBN
:

1534409920

Edition Language
:

English

Format Type
:

Hardcover

Number of Pages
:

378

pages
Reviews
---
Regan rated it ★★★☆☆
November 20, 2017
3.5

---
Melissa ♥ Dog Lover ♥ rated it ★★★★☆
November 07, 2017
That ending! What the . . . "'Doubt thou the stars are fire Doubt that the sun doth move, Doubt truth to be a liar But never doubt I love.'" I don't even know what to say. Everything changed in a blink of an eye. Tyrus is the new emperor and Nemesis is to be the new empress at his side. They are h...

---
Chelsea rated it ★★★★☆
November 03, 2017
More specifically, this was a 3.5 for me that I decided to round up because of how gripping this book was. When I was asked to review The Diabolic I was under the impression that it was a standalone fantasy novel and wasn't expecting the extension into a three book deal. I'd be lying if I said I...

---
Caitlin rated it ★★☆☆☆
December 08, 2017
Thank god that's over

---
Cait (Paper Fury) rated it ★★☆☆☆
November 18, 2017
Wow I just fell down a hole called: This Is Not What I Signed Up For. Which is saaaad for me because I feel like literally every other human and earthworm on Goodreads has really loved it!? But it felt so different to The Diabolic for me (which I adored!! I can't rave about that book enough!!) an...

---
Candace rated it ★★★★★
October 20, 2017
So, this book... I was so satisfied with the last book being a stand alone, and I'm still not sure if I still wish it would have stayed that way. I'm torn apart right now... my soul is seriously split in never-ending pieces that keep turning into more pieces. I'm going to be honest here, during m...

---
Carrie rated it ★★★★☆
October 09, 2017
The Empress by S.J. Kincaid is the second book in the young adult science fiction/fantasy series, The Diabolic. The first book in the series introduced readers to Nemesis who is a Diabolic. Diabolics are engineered to be human like but extremely strong and powerful and meant to bond to one person...

---
Gavin rated it ★★★★★
November 15, 2017
The Empress was a fantastic sequel to the excellent Diabolic. The first book actually had the feel of a standalone novel but I'm glad the series got expanded into a trilogy as this sequel proves that there was more worthwhile stories to be told in this world and that S.J. Kincaid had more than en...

---
Crazy4Books rated it ★★★★★
November 01, 2017
Its so rare for me lately to find a book that I have this level of excitement for. It reminds me of those days when I was fangirling over Twilight and the Hunger Games. The days when I first discovered YA and everything was new and exciting. The space setting, the fascinating technology and the p...

---
Alyssa rated it ★★★★☆
November 12, 2017
I am deaaaaaaaaaaddddddddd from that ending. I just. I can't. It is too much. My POOR FEEBLE HUMAN BRAIN CAN'T TAKE IT omg what even ***Review posted on The Eater of Books! blog*** The Empress by S.J. Kincaid Book Two of The Diabolic series Publisher: Simon & Schuster Books for Young Readers Publi...

---