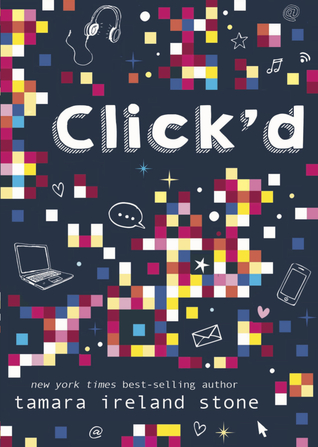 Read Click'd Online Free - Allie Navarro can't wait to show her best friends the app she built at CodeGirls summer camp. CLICK'D pairs users based on common interests and sends them on a fun (and occasionally rule-breaking) scavenger hunt to find each other. And it's a hit. By the second day of school, everyone is talking about CLICK'D.

Watching her app go viral is amazing. Leaderboards are filling up! Everyone's making new friends. And with all the data Allie is collecting, she has an even better shot at beating her archenemy, Nathan, at the upcoming youth coding competition. But when Allie discovers a glitch that threatens to expose everyone's secrets, she has to figure out how to make things right, even if that means sharing the computer lab with Nathan. Can Allie fix her app, stop it from doing any more damage, and win back the friends it hurt-all before she steps on stage to present CLICK'D to the judges?

New York Times best-selling author Tamara Ireland Stone combines friendship, coding, and lots of popcorn in her fun and empowering middle-grade debut.
Title
:
Click'd
Author
:
Rating
:
ISBN
:

1484784979

Edition Language
:

English

Format Type
:

Hardcover

Number of Pages
:

304

pages
Reviews
---
Lola rated it ★★☆☆☆
July 14, 2017
What a disappointment from the author of Every Last Word. Allie loves computers. She spent her summers at an all-girl coding camp and now she's eager to enter her newest invention—Click'd—in a competition. But she hasn't figured out everything about Click'd. She needs to work hard on the glitches t...

---
Kassidy rated it ★★★★★
October 16, 2017
*4.5* LOVED THIS. So so cute and meaningful.

---
Nenia ✨ Queen of Literary Trash, Protector of Out-of-Print Gems, Khaleesi of Bodice Rippers, Mother of Smut, the Unrepentant, Breaker of Convention ✨ rated it ★★★☆☆
September 13, 2017
Instagram || Twitter || Facebook || Amazon || Pinterest I was honestly surprised to receive an ARC of this because Disney-Hyperion never approves me for anything. But they did, so I was like, "Bleep yeah! Girl coders!" I took a coding class in high school. It was one of the most difficult classes...

---
Laurie –A Court of Books– rated it ★★★☆☆
October 07, 2017
At times, CodeGirls Camp could be an emotional roller coaster mixed with triumphant highs and intense lows. 3.5 stars Allie spend her summer in CodeGirls Camp developing an app supposed to connect people and helping them to make new friend. She named it Click'd as the users would answer a bunch o...

---
Stacee rated it ★★★★☆
August 19, 2017
I don't normally read MG, but I love all things Tamara, so it was a sure thing. I loooooved Allie. She's so smart and so determined and has loads more ambition than I think I've ever had. I truly enjoyed her journey. Allie's friends are fun and add a great dynamic. I especially loved Ms. Slade an...

---
Gerardo rated it ★★★★★
May 30, 2017
I received an ARC ebook from Netgalley in exchange for an honest review. 5 out of 5 shining stars. My experience in software made me curious about CLICK'D. Thing is, I've read a bunch of novels where the technical aspects and the programming fall into the magical-coding category. This is a tricky t...

---
YA and Wine rated it ★★★★☆
September 07, 2017
CLICK'D is a delightful new middle grade novel about friendship, chasing your dreams, and following your heart. The story is so much fun to read. I love the concept of empowering kids to use their coding skills to create incredible apps that help improve the world. This book really celebrates the...

---
Kate rated it ★★★★☆
August 16, 2017
Fast-paced and timely middle school story with a great technology premise. Thanks to Disney Hyperion for the advance review copy of this title - all opinions are my own. CLICK'D tells the story of a middle school coding superstar who develops an app at a summer coding camp and is surprised to h...

---
Alexa rated it ★★★★☆
August 16, 2017
I liked Click'd! It's a straightforward MG story that tackles technology, coding, and friendship in a really readable, interesting way.

---
Dianne rated it ★★★★★
August 06, 2017
Thank you, Tamara Ireland Stone for creating an age-perfect read for middle grade kids that: 1) Includes a topic they can completely relate to, as opposed to "read this instead of playing that" 2) Shows them that it is possible to take a dream and make it a reality 3) Is written for and geared to yo...

---